What On Earth Is Light?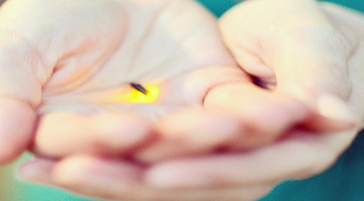 Life throws darkness and shadows in our path on a daily basis, but when you look at a shadow, it just means a bright light is shining somewhere nearby.
Light is our most authentic expression. It is powered by our highest intention, ignited by our deepest joy, and emanates through radical self-love.
Each and every one of us has light within. In fact, I believe we ARE light. We come from it and we return to it. Yet it is a choice whether or not we want to turn that switch on during our human existence.
Most of us live in darkness, blinded by our fear and pain, never realizing the powerful light within us. It takes deep vulnerability to peel away the layers of shadows we cover ourselves with throughout time, triggered by painful experiences. Yet nothing in life is more rewarding than having the courage to face those shadows, heal them with compassion and love, and re-connect with our original state of being, standing tall in our light.
When we are standing lights, a world filled with endless possibilities IS the reality. Some might even call this a world filled with magic, and I stand right beside them.
We all have that inner light buried within us begging for our courage to release it so that it can shine and help us feel the most overwhelming love in existence. That love of reassurance, proving to each and every one of us that we are worth it, that our dreams are that valid, powerful, and incredible.
It takes courage to shine our brightest energy and share it with the world. It is our most vulnerable, yet most powerful self, and once we connect to our mighty light, that's when we're connected to our own inner truth.
It is our divine duty to open our heart, open our might, and let our inner light ignite.
If we connect to our inner light, we will emanate infectious positive energy that creates a ripple effect brightening up the world around us. This is ultimately what will save, not just us as individuals, but our world.
With light filled love,
Leyla